This is the People's Park's visitor's centre. The spiky dome roof looks like the spiky shell of durian fruit which the city is well-known for.

People's Park is formerly the PTA grounds where athletic meets, concerts and huge gatherings were held in Davao City. This was where I jogged with my high school friends years ago but it went into disuse after land squabbles between the local government and the heirs of the donor of the land where it stands started came about. Happily, the issue was resolved and the P75M park project was started with the help of the private sector.

The 4-hectare park was reopened last December 15, 2007. It got its name from a "Name the Park" contest held by the city government.




The park has become a popular destination among locals and visitors. It has a mini-forest, visitor's centre, a manmade waterfalls, a Green Theatre for concerts and shows, and the most well-loved feature of the park are the sculptures made by a well-known and prolific Davao sculptor, Kublai Milan. The sculptures were of the indigenous people of Davao.

Kublai Milan is also the sculptor of the Overview Park in Bukidnon.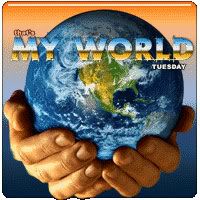 Go here for more My World entries.
SHARE AND ENJOY THIS POST: